On October 28, the St. Robert Junior Boys Volleyball team had to face off against not 1, but 2 teams – the Sacred Heart Crusaders and the Middleton Hawks. They started off the night against the Crusaders, taking the lead right from the beginning. Throughout the entire game, the Rams were relentless, never showing mercy and maintaining the lead. With a final score of 25-19, the Rams came out victorious from their first game against Sacred Heart.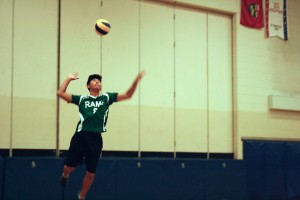 In their second game against the Crusaders, the Crusaders took the lead with a score of 3-9  by the first timeout. However, it didn't take long for the Rams to come back strong. Showing great determination and perseverance, the Rams finally took back the lead with a score of 11-10. Comeback time! They managed to keep this lead and crushed the  Crusaders with a final score of 25-16. It was a nail biting game for the Rams.
Next up, their new opponent, the Hawks, quickly took the lead near the beginning of the first game. The Rams managed to tie up the score at 14-14 and even took the lead with a score of 16-14, but the game continued to be tense as neither team appeared to be completely dominant. The 2 teams tied again at 23-23, but the Hawks managed to come out on top with a score of 23-25. Unfortunately for the Rams, their second game, again, started off with the Hawks taking the lead. The final score was 17-25. Even though the Rams had their ups and downs, they showed great teamwork and perseverance. Their leading player, Dominic K, showed great skill with his bullet-like spikes that helped lead the team to victory against the Crusaders. Keep it up, Rams!