On April 12, 1980, Terry Fox began his cross-Canada marathon to raise money and awareness for cancer research. Terry Fox suffered from osteosarcoma, a type of cancer that caused him to lose one of his legs and have to replace it with an artificial one. Despite his illness, Terry was determined to make a difference in the world, and he began his Marathon of Hope in St. John's Newfoundland to raise money for cancer research. His goal was to run a full marathon each day, eventually reaching Victoria, British Columbia, and along the way, to raise $1 for each of Canada's 24 million people in the name of cancer research. Unfortunately, Terry was forced to end his run after 143 days and 5,373 kilometres just outside of Thunder Bay when his cancer was found to have spread to his lungs. He died on June 28, 1981 at the age of 22, but not without touching the hearts of countless people across Canada, and the world.
Terry's story has remained an inspiring one in Canada from the day he began his marathon to this very day, when schools across Canada celebrate his efforts by holding their own Terry Fox Runs. St. Robert held its Terry Fox Walk on October 10th, and each and every student showed up to support the cause that Terry ran for. St. Robert's students raised over $20 000 in support of cancer research, just under the goal of $25 000, but nevertheless an impressive sum.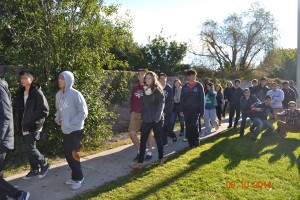 "It blows my mind that Terry Fox was almost the same age as us and he accomplished something that's had a lasting impact even today. It's hard not to be inspired."  – Malin K. (12)
The day was sunny and clear outside, a perfect day for the 45 minute walk around the neighbourhood that the students took. Several young athletes took on the challenge of the Turkey Trot, and embarked on a long distance race. There were four winners total, Joyce Z. for Junior Girls, Jin Ha Y. for Junior Boys, Christina C. for Senior Girls and Nicholas C. for Senior Boys, and they each won a turkey to take home for Thanksgiving!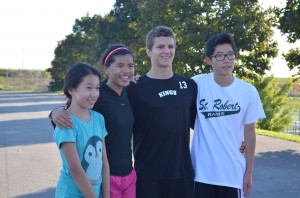 Terry Fox was an incredible human being, and his story continues to inspire people even to this day. By showing their support and fundraising, St. Robs truly came together to make a difference in the world.