The 21st of November, 2014 was a highly anticipated night for many students of St. Robert as they prepared to attend the school's annual semi-formal event, the theme of which was "Viva Las Vegas!" As the doors to The Royalton opened, over 200 students, all looking their best, could be seen entering the hall one by one, ready to have a good time. Was it worth the $60 price tag? And should you go next year? According to the students who went, the answer is yes. Why? Well, according to Eddie W. (12), "There were a lot of pretty girls." But if you're still not convinced, let's take a detailed look at what the semi-formal had to offer:
A Full Course Dinner
Students were immediately treated to various hors d'oeuvres as soon as they entered the foyer, such as fresh foccacia bread and mini vegetable wraps. Once everyone was seated, they were served penne pasta, salad, a vegetable medley, and oven-roasted chicken. And of course, you can't forget the Belgian waffles!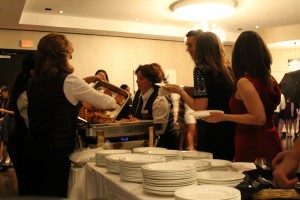 Three Spectacular Performances
The Dance Club started off the night with a splendid choreography, receiving much applause from the crowd. Soon after, Diego P. (11) performed a beautiful cover of Adele's "Skyfall" and Shannon L. (12) sang "Circus" by Britney Spears, which got some members of the audience so hyped up that they began stepping onto the dance floor!
The Dance
After dinner, the main event began – approximately 2 hours of non-stop dancing! The DJ did a fantastic job at mixing things up by playing some newer hits, as well as some classics like Usher's "Yeah", and even some rock in the form of Nirvana!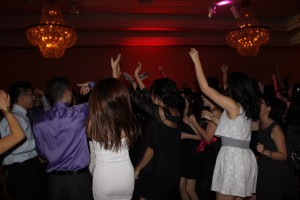 What did the Student Council have to say about the event?
"St. Robs really put the Viva in Las Vegas!" – Crystal N. (11)
"I think it all came together pretty well. We had awesome guests, without whom semi wouldn't even have been possible! And the hall, of course, was so beautiful. The decorations were pretty creative and on point, and I'd say overall, everyone just had a really great time with one another!" – Shannon L. (12)
There you have it – to sum things up, this year's semi-formal event was pretty successful, and the students of St. Robert showed that they really know how to party!
Photos taken by Madeline Lue Tam, Nancy Zhao, and Philana Tam