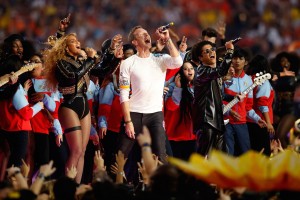 On Sunday, February 7, thousands of football fans across the world gathered together to watch the event they have all been waiting for: Super Bowl 50. The most anticipated game of the NFL season had finally arrived, as the consensus favorite Carolina Panthers battled against the feel-good story in the Denver Broncos for the championship title.
The event started with an truly stunning rendition of The Star-Spangled Banner by six-time Grammy Award winning singer Lady Gaga. After that, the game kicked off with Denver receiving the ball first. It was a tight game throughout its entirety, as the Broncos had one of football's greatest quarterbacks to ever grace the field in thirty-nine-year-old Peyton Manning, while the Panthers had a young superstar quarterback of their own in Cam Newton. The story of the game however, was the many costly mistakes the Panthers made which was unusual considering the great success the team experienced throughout the season. Other highlights included a 61-yard punt return, the longest one ever in Super Bowl history, by Jordan Norwood of the Broncos. Of course, no one can forget the halftime show! This year's featured spectacular performances from Coldplay, Bruno Mars, and the lovely Beyonce.
The final game ended with the Broncos beating the Panthers 24-10 and Broncos celebrated their victory with cheers from the crowd while team members flooded the field with enthusiasm. What a way to end the season and possibly the career of the ever-talented Peyton Manning.