On your marks. Get set. Swim! Dive into the championships of swimming as our team traveled to Windsor on March 8th and 9th, 2016 for the annual OFSAA meet.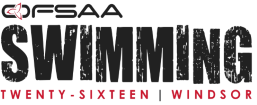 The championships were a tough challenge as there were many talented and fast swimmers who dipped their toes in the pools. Fortunately St. Robert managed to put a strong team together and create a family of excellent swimmers this year. Congratulations goes out to Cynthia Y. (12) after giving it her all to capture the gold metal in the 100m backstroke. Cynthia is known as one of the strongest swimmers on the team and will be graduating from the program this year. We wish you the best of luck. Along with Cynthia, Prisco J. outperformed many of his competitors, making a mark and placing 4th place in the 100m breaststroke and a respectable 6th in the 100m backstroke.
Overall, the team was strong and did well leaving Windsor happy and further adding to St. Robert's swimming history. We congratulate all swimmers and their coaches Mrs. Mazzacca, Mr. Mastrangelo and Mr. Purdon for creating and training an excellent team to achieve such great results.
We wish the best of luck to all those who will not be returning next year and hope to see the rest of you at the swim meets next year.