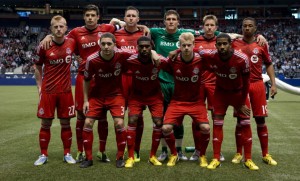 By Victor Lisita (STAFF REPORTER)
The Toronto FC had an amazing season this year, managing to make it to the finals for the first time ever. The team competed for the MLS Cup in December 2016. Games were held in front of the home crowd in Toronto at the BMO Field, and they competed against their opponents in Montreal and Seattle. 
Long and hard struggles that lasted 10 years managed to get them to where they are today. The 10-year-old soccer team had a nail-biting conference finals. They lost game one to the Montreal Impact, but managed to win the second game with a score that matched their opponent's combined number of goals during the entire conference. Their 5-2 win earned them a much deserved spot in the MLS Finals against the Seattle Sounders.
The final was an intense home game that resulted in overtime as both teams were scoreless after regulation time. Even with the overtime period, no team managed to score a single goal, which lead to the dreaded penalty kicks. The Toronto FC did not manage to keep their game up, and they lost in the penalty kicks with a score of 4-5.
Toronto FC goalkeeper Clint Irwin commented on the team's lost, stating: "You don't really know what to feel or what to do. It's just over. There's no words to describe it."
Disappointment was apparent on the faces of Toronto FC players as they were so close, but came out empty handed. Despite losing in the finals, their historic season is one to be proud of.