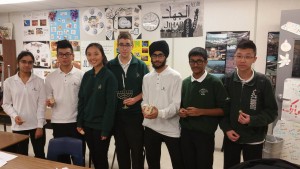 SIMON MINICH (11) | STAFF REPORTER
On Wednesday, December 21st, members of the St. Robert Prism Interfaith club celebrated Hanukkah, the Jewish Festival of lights.
The Prism Interfaith Club brought some of these celebrations and traditions into the school for students to enjoy and witness first-hand. Filled with thrill and excitement, students lined up by the display to get a taste of the Jewish tradition and games associated with Hanukkah.
Students had the opportunity to spin authentic dreidels, which featured Jewish symbols and characters on each side.  All students were rewarded with a candy treat for participating in the activity. This left students coming back for more.
The Prism Interfaith club was truly astonished by the levels of enthusiasm demonstrated by the students of St. Robert in learning about Jewish traditions in culture. "The urge to learn about cultures from around the world reflects how accepting and respectful the student body of St. Robert is", said Mr. Cara, coordinator of the club. Prism Interfaith wishes happy holidays and blessed New Year to the entire school community.