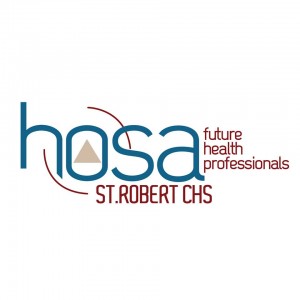 MARY  XU (11) | STAFF REPORTER
     The St. Robert HOSA (Health Occupation Students of America) club is presently undergoing its second year as a club at St.Robert CHS.
     This club strives for the knowledge, skill, and leadership development of all health science education and professions. According to the club's Facebook page, it's mission is to "engage St. Robert students in the healthcare industry by providing them with the opportunity and resources to learn more about possible career choices within the industry and gain practical skills required for success in the field."
     They prepare their members to compete in a broad range of events at a national and international level. Many consider HOSA to be the medical version of DECA (a business club at St.Robert), as teams are given medical case studies and are required to solve them; in the same way that students participate in roleplays in DECA. However, HOSA still has its unique and interesting aspects for those who are interested in the health science field.
     As a growing club, HOSA would love to see more members for next year. Be sure to check them out on Mondays and Wednesdays after school.