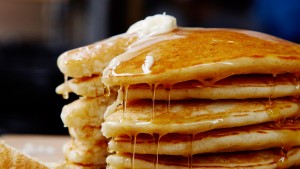 SIMON MINICH(11) | STAFF REPORTER
The St. Robert Social Justice council is back and excited as ever with their latest in-school incentive. On Tuesday, February 18th, members of the team were found outside of the cafeteria grilling, decorating, and selling freshly made pancakes in order to raise funds for a well in a third world country.
"All proceeds will go directly to the Free the Children Foundation to give provide those in need with the most simple yet fundamental gift of clean drinking water," says Palak Dhillon, a member of the team.
Students were lining up by the dozens to get their chance to dig in to the delicious treat. A simple pancake with syrup provided a dollar towards the construction of the well, while the "fully loaded" alternative with chocolate chips, whipped cream, and strawberry sauce contributed two.
The Social Justice Council suggested that every single pancake brings them a step closer to providing clean, drinkable water for those most in need. It is estimated that 784 million worldwide do not have regular access to clean drinking water.
"Through something as simple, yet sweet as selling pancakes, happiness can be brought to those living in extreme poverty. It seems like a win-win situation," says Ethan, one of the pancake chefs.
The team hopes to raise a few hundred dollars to add to their ongoing fund to the organization.