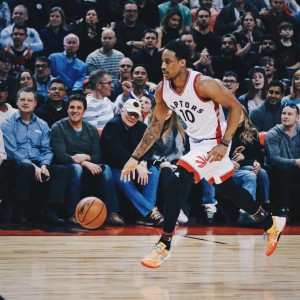 The Toronto Raptors are an overall generally good team, but this season (before the all-star game) they had done quite worse than usual. Their defense hadn't been the best it could have been. Following the all-star game, the Raptors started to up their game as they beat the Boston Celtics 107-97.
Even with Kyle Lowry being out due to a sore wrist, DeMar DeRozan was the MVP of that match scoring 43 points in total. For a while, even with the losing streak, they had a good chance of still making it into the playoffs. The Raptors currently have a >99% chance of making it into the playoffs (eastern conference in their case). What helped that chance was their win against the Portland Trail Blazers with a 112-106 victory.
Surprisingly in that game during the second quarter they were at one point behind by 11 points, but with some great plays the managed to get ahead, and then stay ahead for the rest of the game. This was majorly thanks to DeRozan's 33 points scored in the game. Speaking of DeRozan, this game was actually his 500th game as a Raptor, being the fourth person in the team to ever reach that number.
Sadly, Kyle Lowry could not play tonight as well. After the game against the Celtics Kyle had stated that "it doesn't seem to be a day-to-day injury". Hopefully he can play in the next game on the 27th, or at least on the first of March.