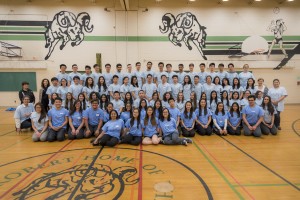 MARY XU (11) | STAFF REPORTER
On Friday March 24, 2017, the Social Justice club hosted its annual Thinkfast event at St. Robert.
There is a famous ancient Chinese proverb that goes, "Give a man a fish and you feed him for a day; teach a man to fish and you feed him for a lifetime." But, there arises the question of why the man had no fish to begin with.
This is what the Social Justice club at St. Robert aimed for students to think about during their annual Thinkfast event; why world hunger is still such a major issue in our society today, and why those who have enough are doing little to help.
Thinkfast is an event where students are given an opportunity to fast in a school environment, in order to experience a taste of what people suffering from world hunger may be going through. This year in particular many guest speakers came to speak to the students about their own personal experiences and various ways youth can get involved in their community.
Thomas Zerbs, a grade 11 student, said, "Thinkfast was a really inspirational experience. After hearing Dr. Sara speak, I truly felt motivated to help others in my community."
Aside from the amazing speakers, those who attended Thinkfast got to interact with other students, play games, make crafts, and all the while feel like they were helping raise awareness on an important issue.
Palak Dhillon, Advertising Coordinator for the Social Justice club said, "Thinkfast was a huge success this year! We had a great turnout and we managed to raise a lot of money for Water for Life." In fact, this year's Thinkfast event raised around $1200 for the Water for Life initiative.
As a school community at St. Robert we should be extremely proud of our efforts and continue to put in our best efforts to help those in need. The Social Justice club hopes to see even more attendees next year, so be sure to check it out next year for a truly life-changing event.