Friday, November 17, 2017
Dena Salehipour (11) STAFF REPORTER
The netflix original tv show, Stranger Things, debuted its second season on October 26, 2017. Its explosive popularity has induced binge watching and much excitement from fans throughout the world.
The show centres around a nerdy group of kids ,in the nostalgic times of the 1980s, who are faced with the supernatural threat of the upside down taking over their hometown of Hawkins, Indiana. The first season ended dynamically with the rescue of Will Byers from the upside down and the disappearance of a fan favourite character, Eleven (El), after the epic destruction of the Demogorgon.
However, the ending of the first season did not answer many of the questions that fans had been aching to understand. The directors of the tv series, The Duffer Brothers, admitted to this incoherence in an interview with Vulture, "In season one, we wanted all the various subplots to do their own thing, and have each of those story lines climax simultaneously. It was something we weren't totally able to pull off."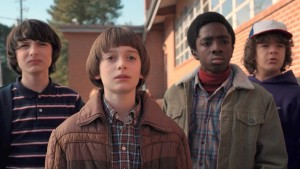 (Four of the Main Characters of the show, left to right : Mike Wheeler (Finn Wolfhard), Will Byers (Noah Schnapp), Lucas Sinclair (Caleb McLaughlin), and Dustin Henderson (Gaten Matarazzo).
However, the second season manages to tie up the loose ends in its nine episode run that takes a darker turn. The season involves the return of Eleven and the spreading threat from the upside down that seems to be taking over the small town. It ends with a mysterious scene foreshadowing the return of the show sometime next year. Fans were on the edge of their seats throughout each and every episode and reviewers described the debut as, "… much more than a sequel. It's a thoughtful and compelling trip into unknown territory".
The new season is available on Netflix. Let us know what you think of the new season below.