February 12, 2018
STAFF REPORTER – Jacqueline Chong
Hip-hop artist Rich Brian, formerly known as Rich Chigga, released his first official album, Amen, on February 2, 2018, after popular demand.
Rich Brian, a self-taught english rapper, born and raised in Indonesia, had a strong passion for music, leading him to stray away from his homeland and live out the latest chapter of his life in Los Angeles as an upcoming artist. With his focus and determination to put out an album for his fans, he made sure he portrayed himself as someone he wanted to be identified as.
The artist made headlines for changing his name from Rich Chigga, to Rich Brian as he stated "Yes I now go by "Rich Brian". I have been planning to do this forever and I'm so happy to finally do it. I was naive & I made a mistake." His song "Dat Stick" released at the beginning of 2016, made its way to 64 million streams on Spotify and almost 86 million views on youtube, ultimately paving his path into the music industry.
His album was well promoted as Brian made a late-night appearance on James Corden's "Late Late Show" the night of the album release, performing the two new songs "Amen" and "Cold" with a creative set design displaying a bedroom with a vintage projector.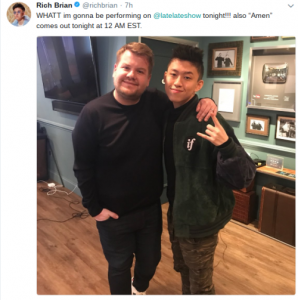 Rich Brian post on Twitter before his appearance
The response of the album release was overwhelming as many Rich Brian fans have been waiting for this moment for a long time. Having a song with Offset on the album called "Attention", and his hit singles "Glow like Dat" and "See Me", fans are undoubtedly responding to his music with love and respect for the young 18-year-old rap artist.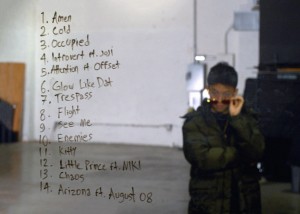 Song tracks on "Amen"