Wednesday, February 14, 2018
STAFF REPORTER – Dena Salehipour (11)
On Monday February 12th, the Canadian figure skating team won gold in the team figure skating event in the Pyeongchang Olympics.
The team, composed of Gabrielle Daleman, Kaetlyn Osmond, Patrick Chan, Meagan Duhamel, Eric Radford, Tessa Virtue, and Scott Moir, scored a total of 73 points allowing them to easily capture gold with a 15 point lead.
When asked about Team Canada's exceptional performance Mike Slipchuk, Skate Canada's high performance director, said "They were on a mission this year. This was important and our whole team was full in to win this. When I talked to them in the summer I never had one of them say 'maybe I'll just do one part.' They were all in." After losing to Russia at Sochi during the team event in the last winter olympics, Team Canada was determined to prove themselves this year and they did just that.
This victory was a true collective effort as each skater carried their share of the points with strong performances that left the crowds in awe. Kaetlyn Osmond- 22 year old from Marystown, NL- competed in the ladies short program and finished third.
Gabrielle Daleman (20 years of age from Newmarket) subbed in for Osmond after the short program and also secured third place in the ladies free skate event. Her amazing performance was not only valuable as it gave the team an insurmountable lead, but was also a personal victory as Daleman has battled many health problems in the past year.
Patrick Chan a torontonian three time world champion, and olympic silver medalist, recently came out of retirement with the goal of securing gold in the Olympics. His performance, although not clean, earned him a top spot due to his high component score as well as the two huge quadruple toe loops which boosted his technical score.
Teammate Eric Radford described Chan's long program as "Incredible". Radford said, "I was so proud of him. Those first two quads were amazing. When I watched him I didn't move. I just sat there like a statue. I didn't even know what to think. His skate was one of the most important for the competition."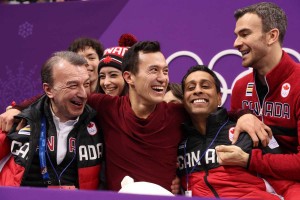 (Team Canada celebrating after their gold medal win)
Radford and Duhamel competed in the pairs skating event and finished in second place behind the Russian team of Tarasova and Morozov.
Finally, ice skating veterans Tessa Virtue and Scott Moir performed an eerily beautiful performance to Moulin Rouge that gave the audience and the judges, goosebumps landing them in first place. The team of Virtue and Moir is an all time fan favourite and they too have come out of retirement to recapture the Olympic gold they missed at Sochi.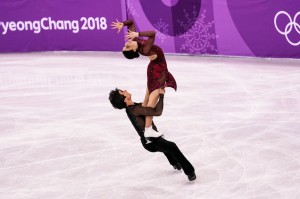 (Scott Moir and Tessa Virtue performing)
This victory was significant as Canada had not won a figure skating gold since Virtue and Moir's ice dance crown at the 2010 Olympics in Vancouver.Figure Skating events will continue February 14th and Canadians remain excited awaiting more medals from our amazing team.