Students were treated with an eerie sight on Friday, October 31st as ghouls, monsters, and superheroes roamed the halls of St. Robert. Creatures of the night haunted every classroom and ordinary students walked around dressed in fantastic costumes for just one day. Students and teachers of St. Robert transformed into different beings, wearing an exciting array of different costumes, ready to display true Halloween spirit.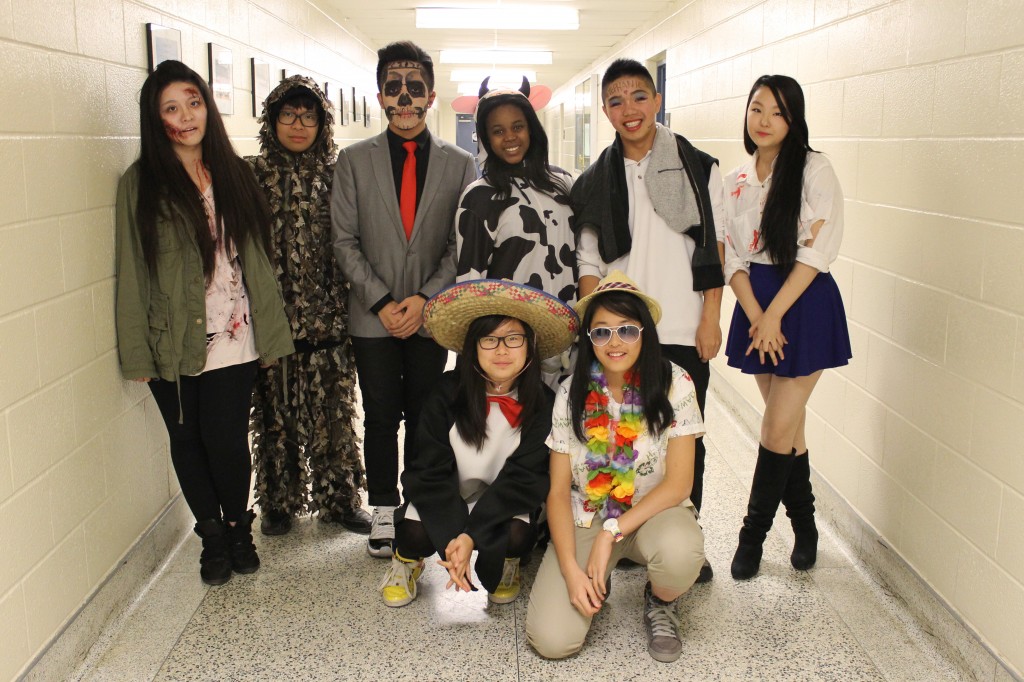 With many creative and homemade costumes, it was  obvious that a lot of time and effort was put into this very special occasion.  St. Robert transformed into an entirely different setting, from a school to a haunted building with monsters appearing at every turn!
STUCO held many spooky activities in the cafeteria, such as the Mummy wrapping contest and a Ping-Pong ball race. "Thriller" blasted through the speakers and Halloween spirit was in the air!
The festivities didn't end after school however, as the celebrations went well into the night. Many Halloween parties were held and despite age and social stigmas, many students from St. Robert went trick or treating!
"Trick or treating is my favourite part of Halloween.  I love the free candy you get; but make sure you check the candy before you eat it!" – Alena C. (11)
This year's Halloween was extremely successful, with both students and teachers participating and showing how connected the St. Robert community really is.  Halloween is a time when everyone can express a different side of themselves to the public, and for just one day, they get to be whoever they want to be. Great job everyone, this was truly a memorable Halloween.
Photos taken by Cynthia Ng, Jessica Wong, Linda R-C, Larissa Leung, Madeline Lue Tam, Angel Mak, Nancy Zhao, Nina Yan, Samantha Wong, and Rose Yazdan-Parast