Say hello to your award-winning student newspaper, second year in the running. Nicolas M. and photography editor, Nancy Z., swept the photography section of the Toronto Star High School Newspaper Awards last Thursday, May 26, 2016. Together, they bagged both the first place and second place photography awards. Congratulations to Nicolas for receiving the first place award and to Nancy for getting runner-up!
On Thursday, the winners and some other members of the Axiom had the privilege of attending the awards ceremony hosted at the soon-to-be closed Toronto Star Plant in Vaughan. The students were treated to a fascinating final tour of the facilities and enjoyed the addresses of prominent figures from the news industry.
Although the excursion was tinted with the sadness of the plant's imminent close, a reflection of the fast-changing industry, attendants nonetheless had a great time celebrating the impressive achievements of the winners and learning more about the uncertain future of journalism.
A big thank you to the Axiom staff for their hard work this year, the winners for representing our paper so well, and Ms. Kurtz for her continued guidance and support. These awards serve as a fitting end to a great reporting season. We look forward to continuing this tradition of excellence in the years to come.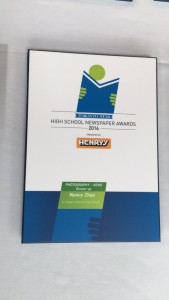 We even made the paper: check out the Toronto Star article and list of winners here, https://www.thestar.com/news/gta/2016/05/26/student-journalists-prove-they-have-the-write-stuff.html